April is Earth Month!
Here are fun ways you can live a greener and more sustainable lifestyle:
Make Your Commute Count
Throughout the month of April, you can celebrate Earth Day by playing the Make Your Commute Count game to learn how to reduce their carbon footprint to make the Gulf Coast a greener, more sustainable region.
Follow us on Social Media
Follow H-GAC on Facebook, Twitter, Instagram, and LinkedIn to learn about making small changes in their daily routine to help make our region a healthier and greener place to live.
Play Earth Month Bingo
Play Earth Month Bingo Sponsored by METRO Star Vanpool and H-GAC:
Take a picture doing any of the tasks on the board
Post your picture on social media, follow and tag @MyMetroStar/METRO Star Vanpool and use the hashtag #MakeEverydayEarthDay
Each picture you post will enter you for a chance to win a prize!
Download the #MakeEveryDayEarthDay Infographic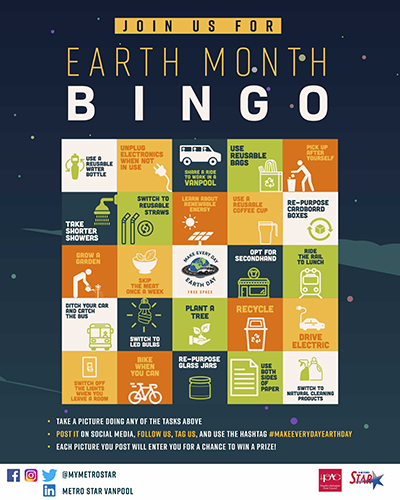 Download the BINGO Card
Webinars
Register to attend "Return to the Office: Let's Talk Transportation Choices" - an interactive webinar where three regional transportation professionals will discuss post-pandemic commuting.
This webinar will be held on Wednesday, April 21 and will sponsored by the Energy Corridor District in partnership with METRO STAR, H‑GAC, and Bike Houston.
Join us as we work together for a more vibrant, healthy, and sustainable region for everyone!
Would your organization like to partner with us for future events?
Do you need Commute Solutions to assist your organization with finding a better way for your employees to commute to work, please contact Francis Rodriguez at francis.rodriguez@h-gac or 713-993-2437.